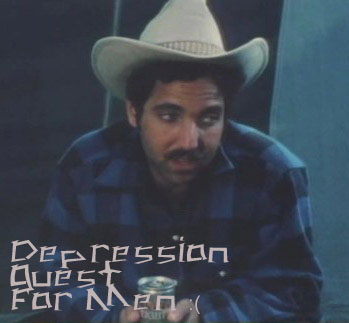 Depression Quest for Men is an interactive fiction game where you play as someone living with depression. You are given a series of everyday life events and have to attempt to manage your illness, relationships, job, and possible treatment. This game aims to show other sufferers of depression that they are not alone in their feelings, and to illustrate to people who may not understand the illness the depths of what it can do to people.
Any resemblance with other games is pure coincidental and should not be taken into account. We also provide a complaint form for all unsatisfied customers.
For the complete experience, please play with the sound turned on.
"That's the thing about depression: a human being can survive almost anything, as long as she sees the end in sight. But depression is so insidious, and it compounds daily, that it's impossible to ever see the end." - Ron Jeremy Hyatt